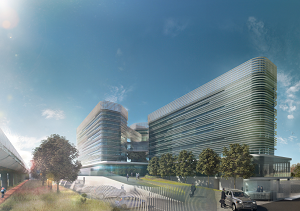 The Letting & Sales team at BNP Paribas Real Estate Advisory Italy assisted IBM as adviser for the 'built-to-suit' development of the tech company's new executive centre in Rome. The office complex, which will be built near the capital's trade fair district and leased to IBM on a long-term contract, has a gross lettable area of 16,000 sqm and large outdoor areas.
IBM's new Italian headquarters will consist of three buildings of 4, 5 and 6 floors. Construction of the executive centre began in December 2016, and will be completed by the end of 2018 in a strategic district of the city, not far from Fiumicino airport and the city's major road links.
"In the last three years, many large national and international companies have found themselves leaning towards 'built-to-suit' solutions, which is to say, having their headquarters built from scratch rather than looking for properties already on the market," said Stephen Coticoni, managing director of BNP Paribas Real Estate Advisory Italy. "The operation recently concluded by IBM—with our assistance—falls into that category. It will allow the company to have an energy-efficient building with architectural solutions designed to ensure a functional and efficient work environment. In other words, IBM's new executive centre will be one of the most innovative buildings in the Italian capital."
Download the document

BNP Paribas Real Estate - International Italy transaction Roma IBM UK
PDF - 267Ko
International press contacts