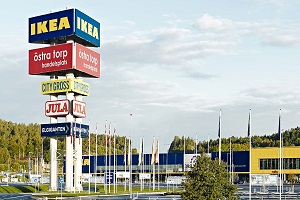 BNP Paribas Real Estate will take over the property management of 25 properties that include IKEA among the key retailers, along with other major national and international brands. Pradera will act as asset manager.
By this major pan-European mandate, the company confirms its expertise in managing retail properties and increases its managed portfolio of 38 million sqm by more than 540,000 sqm.
This agreement provides further evidence of the strength of BNP Paribas Real Estate's international network.
As of April 5th, the property management business line of BNP Paribas Real Estate will be providing complex property management services for:
10 retail parks in Germany (Mannheim Hamburg – Moorfleet Oldenburg ULM, Hofheim-Wallau, Wurzburg, Koblenz, Cologne – Butzweiler, Cologne – Godorf and Dortmund)
4 retail parks in Poland (two retail parks in Warsaw, one in Katowice and one in Poznań)
1 retail park and 2 shopping centers in France (Avignon, Bry-sur-Marne and Thillois/Reims)
The agreement was concluded with the leading specialist retail property fund and asset manager Pradera, which in early March acquired 25 IKEA Centres located in eight European countries.
"It's a great opportunity to work on medium-long term strategic and cross-border challenges with an expert in retail investment like Pradera. We are very motivated and well prepared to bring our best practices to this project in order to enhance the value of the portfolio," comments Csongor Csukas, Executive Director International Property Management
Roberto Limetti, Managing Director, Head of European Property at Pradera, said: "We are delighted to have completed the first phase of this landmark deal, which builds on our 17-year track record of success in managing retail investments across Europe. Having done so, we are pleased to bring in BNP Paribas Real Estate to provide property management services on this portfolio."
Download the document

2017 04 13_BNP Paribas Real Estate PM - Pradera Mandate
PDF - 332Ko
International press contacts