Investment volume remained stable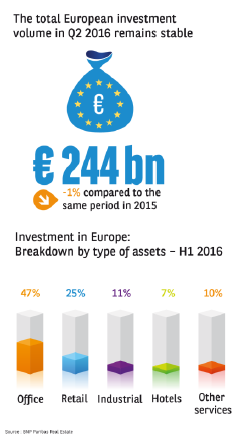 In Q2 2016, on a rolling year basis the total investment volume stabilised around € 244bn, stable compared to the same period in 2015. Offices remained investors darling with a stable share of 47%, rising to € 118bn (+15% Vs Q2 2015 on a rolling year).
However with close to € 99bn, H1 2016 started rather quietly, coming in the wake of an exceptional year in 2015. The significant declines in the UK to € 28.5bn (-36% vs. H1 2015) and Germany that reached € 18.4bn (-24% vs. H1 2015) has severely impacted European total. In France, with € 9.7bn, investment only dipped of 3% in H1 2016 compared to H1 2015.
UK, France and Germany that represented 63% of the total European investment volume on average since 2007 dropped to 58% in H1 2016. This benefited other markets, such as The Netherlands, Belgium and the Nordics countries.
Over the last 12 months, foreign investors represented 49% of the total volume invested in commercial real estate.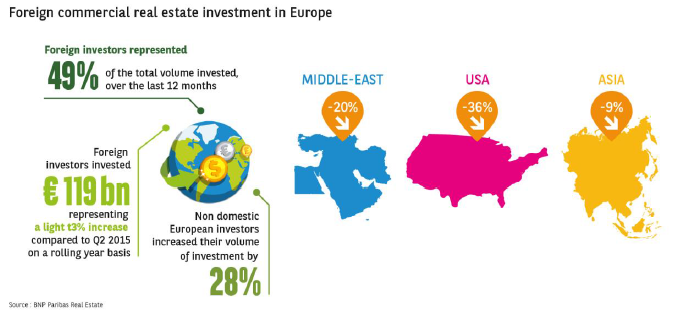 Foreign investors' presence on the investment market dropped over the last 6 months. With more than € 45bn invested during H1 2016, foreign investment volume declined by 30% Vs. H1 2015. Investment from American investors was the most impacted. Indeed, with €10bn invested by American buyers during H1 2016 (compared to 24bn in H1 2015), their share of international investment dropped to 22% with a lesser interest for the UK and Germany and an increase target of alternative markets such as The Netherlands, Spain, Italy and Ireland.
A weaker investment volume was anticipated in the run up to the UK referendum, as a consequence of investors' wait-and-see attitude. One of the most spectacular drop came from American investors who only spent € 2bn over H1 2016 Vs. € 11bn a year ago.
Occupier market
The upward trend in office markets continued as expected in Q2. The letting activity in Central Paris bounced back on a subdued activity during H1 2015, due to large-scale deals. In Germany, take-up represented a new record for any first half, exceeding the previous top mark of 2008 thanks to the fall of unemployment. In Central London, the occupier market remains in rude health following a sustained
period of growth and activity.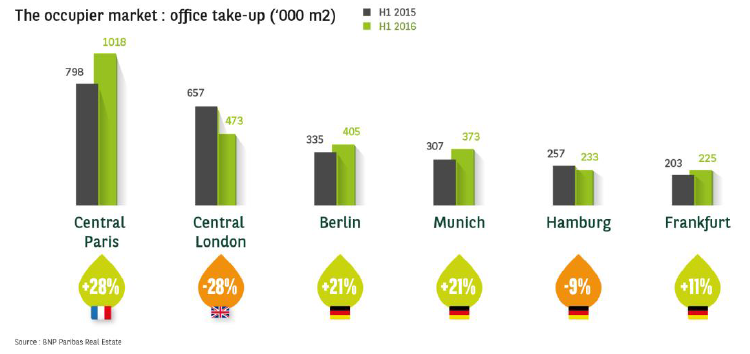 The compression of vacancy rates in Central London, German cities and Dublin results in a raise of prime rents in these markets, with a 10-year high point for Central London, Frankfurt, Munich and Berlin. Paris' prime rent remained stable over the past ten years. In South and East Europe countries markets, prime rents are stabilizing after a drop starting in 2009.
Download the document

bnppre_-_advisory_european_markets_analysis_20161004_2016-10-04_14-25-54_747
PDF - 351Ko
International press contacts