Understanding the market to better serve our clients
After BNP Paribas Real Estate Property Management carried out a thorough analysis of the market in which we operate, we were able to see clear examples of where we needed to priorities our services in order to meet the modern day demands of our clients. We found that we needed to ensure that we were:
More tenant and user centric

Able to develop our Data Intelligence through SMART buildings (in strict accordance with GDPR)

Focused on meeting the changing needs of investors

Continuing to develop a pan-European service offer
Find out more about the four strategic levers that we've identified .
In order to reach these objectives in the most effective and innovative way, we decided it was important to refresh our way of thinking and respond to the intentions that we had set ourselves. In this way, we have developed six flagship projects that will deliver added value to the assets our clients.
Each of these projects demonstrate our global capacity by covering the areas that we have defined as the most important for our clients. By being able to identify what our clients are looking for and where we can develop, we believe our six projects accurately respond to what is currently happening in the Property Management sector. With dedicated teams and client specific processes, our projects ensure that our clients maximise the potential of their assets and mean that we are able to create a strong and efficient working relationship.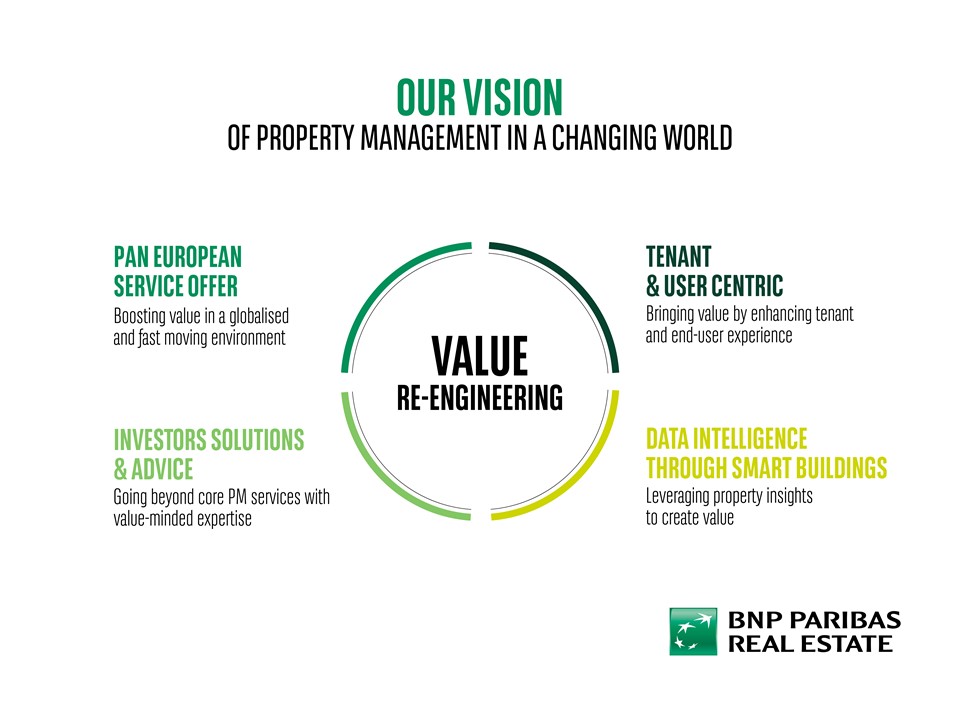 Property Management: 6 Priority projects
Pan European Account Management

Green Management

Residential Active Management

Hospitality

Project Management

Data Driven Strategy (in accordance with GDPR)
Data Driven Strategy
This project aims to bring data to the heart of decision making by offering tailor-made solutions that are based on data analysis and predictive algorithms. The innovative solutions that we've created mean that through careful understanding of a building's data, we are able to anticipate the needs of end-users, offer the adapted service to the right person and increase the attractiveness of a building.
The solutions we provide include:
An online dashboard which provides real time and predictive key indicators (leverage to negotiate/adjust strategy)

Thorough data analysis: define and follow KPIs relating to employees performance (reduce turnover/increase productivity

)

Improve UX through proximity services and Community Management

PropTech Store: We analyse your portfolio data to offer you the best innovative solutions on the market. Privileged and tailored access to the best services on the market offered by PropTechs which secure the highest funding in the sector (e.g. Deepki, Zenpark, Hostmaker, Office App, Spaceti, WeMaintain)
Pan European Account Management
Account management is a huge priority for us. We know that by strategically monitoring our client's European portfolio and providing operational and local knowledge, we can provide a unique and vital service, ensuring that we form a relationship with our clients that work for both us and them. Thanks to a dedicated Key Account Manager, our clients are supported through every stage of their project. This means matching their objectives with our strategy to create innovative, advantageous and practical solutions.
Because of the time we have taken to evaluate the market and our years of experience, we are able to understand the needs of our client and thus provide:
Value increases to client's assets

A consistent European investment strategy

Tailored services across Europe, adapted to user expectation

Dedicated PropTech store which means access to services offered by partners scoring the highest funding in the sector: Deepki, Zenpark, Hostmaker, Office App, Spaceti, WeMaintain
Hospitality
Property Management is as much about people as it is property, which is why one of our major upcoming projects relates to Hospitality.
The way we work means working as one united team, supporting our clients and customers by being people orientated and putting them at the heart of our thinking. In this way we add value for investors, profitability to occupiers and satisfaction to end-users. By re-engineering our Property Management model in this way we value people, which ultimately improves a building's performance.
Ways that we achieve this:
360° user experience programme which strengthens the brand and image of a property

Hospitality: Boost engagement, enhance prestige, improve tenant loyalty and ensure direct communication links with users

E-concierge Services: Quick access, on-spot delivery, no administration and highly personalised

App/ Website: User friendly, future proof, state of the art technology, online payment and administration
How we add value:
Premium branding for your property

Culture of innovation and excellence

Best digital platforms tools to power a tailor-made services eco-system
Performance driven strategy increasing productivity through the well-being of employees

User-centric approach: community managers, hospitality managers

Digital services adapted to new generations

Satisfaction surveys and monitoring
Green Management
Environmental, Social and Governance commitments are an incredibly important part of a building's success and as we change the way we live and work, such commitments have become an integral part of our society. This is why at BNP Paribas Real Estate Property Management we've chosen to dedicate a project to Green Management, ensuring that our client's demands for sustainable investment are met.
We know that benchmarking and measuring sustainability performance is a key priority in this market which is why we've embarked on this project to provide the vital assistance needed in this area. We also offer bespoke innovative solutions such as Smart technology, green walls, electric stations and rooftop gardens, demonstrating our leading ideas and the creativity that we can add to each of our client's projects.
Our added value:
Global sustainability solutions for your Pan-European portfolio

Pan-European hub in the UK and overseeing two continental European hubs (France and Germany) to deliver the best sustainability management solutions

Standardised, coordinated and consistent sustainability services

Bespoke innovative solutions
Project Management
Project management is at the heart of Property Management, as we strive to work as team with our clients in order to transform their ideas and vision into a reality. In concrete terms, this means making customers aware of the importance of cost and risk management and ensuring their projects are completed on time and on budget. Working in this way means avoiding delays and cost increases and instead enhancing the value of an asset by reducing any potential risks.
The solutions that we provide:
Due diligence and feasibility studies

Environmental consultancy

Refining the definition, design, performance and finalisation of a project

Key assistance on budget management, scheduling and control and quality risks
Residential
The residential sector makes up a large percentage of Real Estate investment, thanks to consumers tending to lean towards lettings. To actively respond to this trend we offer an innovative, blended-yield model for residential assets which allows for diversified leases (a mix of short, mid-term and long), helping to maximise revenue for our clients.
In order to ensure that we were offering the best service in this area and are harnessing the best players in the market, we've partnered with the innovative start-up, Hostmaker[LM2] . They are leading the way in the seasonal, rental management market, responding to a new way of living in buildings and the way people market their properties (stand out listings, in-person meet & greets and guest welcoming, 5-star housekeeping, interior design, maintenance).
The solutions we provide (long and short-term)
Innovative blended-yield model: a well-adjusted mix between short, mid and long term leases to maximise revenues

Solutions to increase occupancy rates: active lease management

Hands-off premium services for seasonal leases: listings on platforms such as Airbnb (description, high quality pictures), guest screening, hosting (in-person meet and greets, 5-star housekeeping), maintenance (fixing, interior design

).

Expert advice to adjust lease mix. Throughout your building we can regularly adapt between long, mid and short term leases

Diversified demand stream: risk mitigation with mixed rental model
Our added value:
Hostmaker follows the high quality standards of BNP Paribas Real Estate in terms of reporting and compliance which means there is a high quality control level for our clients

Interior design service and payment plans

Premium hosting services and guest management
Driving trends forward in Property Management
We believe that thanks to these six leading projects, we are adapting to current trends and what is important for our client, occupiers and end-users. Our focus is on innovation and providing real-added value, which is why we continue to reinvent our business line and project offering to provide the best service in the sector.
Read more articles like this: