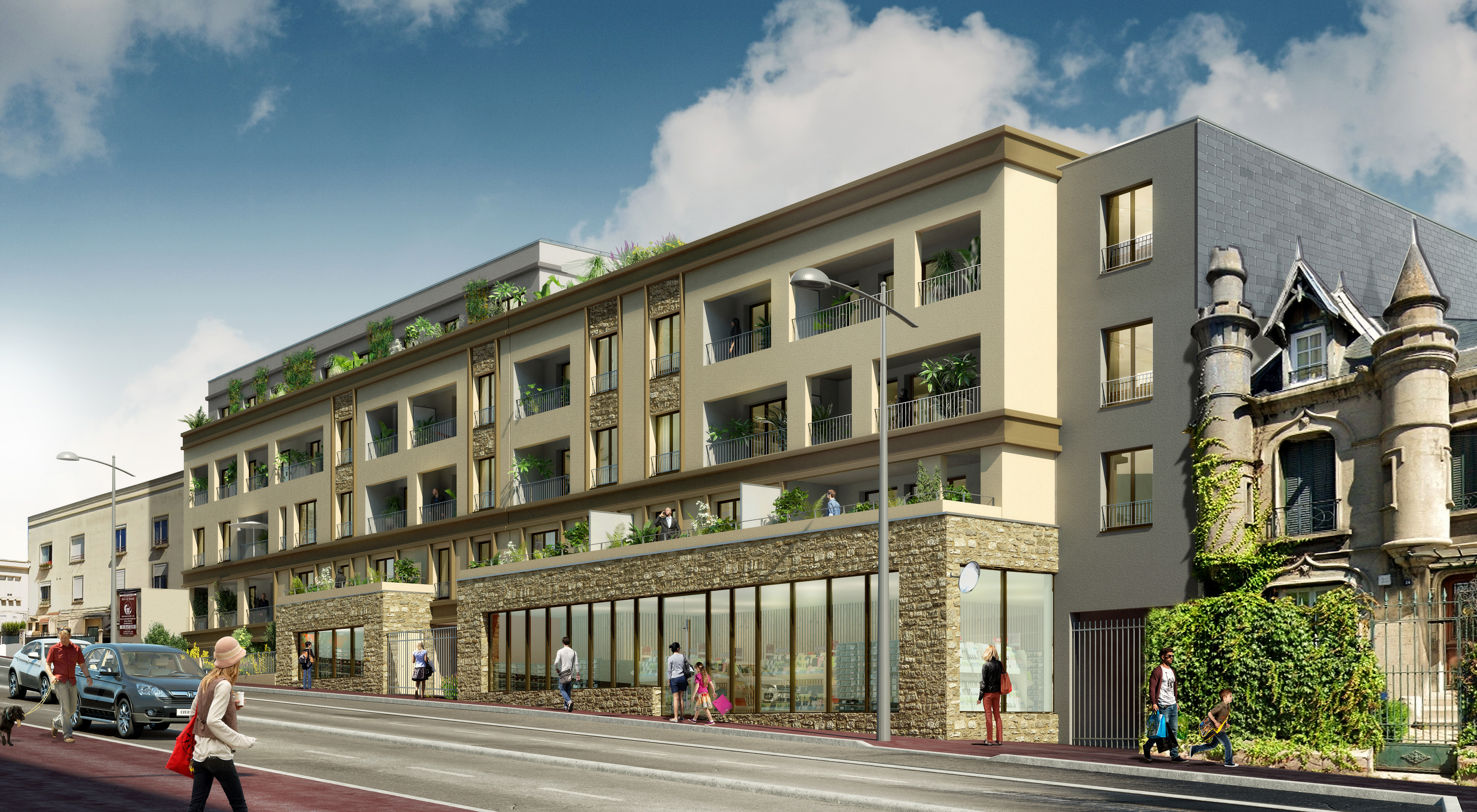 © TML ARCHITECTES
BNP Paribas Real Estate Investment Management (REIM) France announced the off-plan acquisition of a residential building located 26-34 avenue Pierre Curie in Saint-Cyr-L'Ecole (78), on behalf of Danish investor PFA Pension.
The asset is a residential building with a total surface area of 2,800 sqm that will be developed by Pitch Immo and delivered during Q4 2024. It will be composed of 47 flats divided on 3 floors with a balanced offer from studios to 5-room apartments to address the needs of young executives and families. The apartments will benefit from great light and many outdoor areas such as balconies, patios and private gardens. 61 parking spaces will be available and two shops located on the ground floor of the building will complete the asset.
The building benefits from an excellent location in the city center of Saint-Cyr-L'Ecole, with a great offer of services nearby – shops, restaurants, banks, pharmacies and schools. It also gives an easy access to public transportation with commuter trains (Transiliens N and U and RER C) and buses only a few minutes away. Surrounded by forests (Bois-d'Arcy and Satory), it offers a rare balance between the city dynamism and green spaces serenity.
In accordance with BNP Paribas REIM's CSR strategy, the asset is certified NF Habitat, which means it will be exemplary in terms of quality of life, respect of the environment and economic performance.
BNP Paribas REIM France acquired this asset on behalf of PFA Pension as part of a new separate account targeting residential buildings (existing or off-plan acquisitions) in the main cities of France. Other acquisitions are already planned for 2023.
Henri Romnicianu, Global Head of Institutional Sales at BNP Paribas REIM, comments: "This is a very exciting acquisition that illustrates our commitment to the living sector in general, and we look forward to building a secure income portfolio of residential assets in France on behalf of PFA Pension. This cooperation also demonstrates our presence alongside international investors in the Nordics where BNP Paribas REIM has now successfully built several partnerships."
"We are very enthusiastic to launch this mandate through a premium asset and alongside a solid developer who produces high quality buildings. The building fundamentals, its many features, combined with a very good location make it a product that meets sustained rental demand, and therefore a great investment for our client. This transaction also highlights our ambition to promote access to housing while delivering a long-term resilient performance" adds Guillaume Delattre, CIO BNP Paribas REIM France, Belgium, Luxembourg, Spain and Portugal.
The "8ème Acte" notarial office accompanied BNP Paribas REIM on this operation as well as Artélia for the technical aspects.
Pitch Immo was advised by the "1694 Notaires" notarial office.
This transaction was carried out by the teams of BNP Paribas Real Estate Conseil Habitation & Hospitality.

PR REIM_PFA-Saint Cyr LEcole acquisition_080323
PDF - 849Ko
International press contacts