With only 5% of French companies being considered 100% flexible, this BNP Paribas Real Estate edition of Watch Out looks at international companies such as Danone, AXA and Coca-Cola, who have made huge waves in terms of restructuring and redesigning their offices. Danone for example has dramatically cut down their private, closed-off offices from 75% to 1%, with 95% of employees saying that they are very satisfied with the changes.
Watch Out #3 gives a brief snapshot into the ever-evolving real estate sector, helping demonstrate how society and culture are influencing our needs. At BNP Paribas Real Estate, we are committed to understanding tomorrow's vision of the real estate sector which is why we aim to cover all types of innovation and forward thinking within the real estate sector.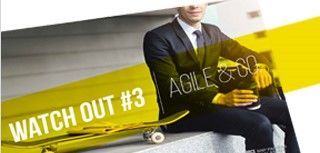 Watch Out #3
As a real decision-making support tool, this issue offers testimonies from several actors who have adopted flexible office organisation models.
Download Watch Out #3 here