The Covid-19 pandemic has taught us a lot in a short space of time and there is a significant amount of information that we must go through before we can really draw conclusions. It is the moment however to take an in-depth look into what is happening. This is why BNP Paribas Real Estate has created a special TrendBook focusing on the effect of Covid-19 and what it means for our places of work.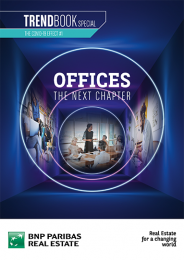 TrendBook Offices: the next chapter
What is life in our offices going to look like post Covid?

Take a deeper look at the trends, innovations and new ways of interacting with space that are going to affect our professional spaces.
Download our TrendBook here