Nowadays along with respecting the environment through using natural resources and energy savings, the building has to be smart. 
To do this the building monitors its energy consumption and optimises it, using the data generated by the building's connected devices to upgrade the experience of its tenants and inhabitants.
From individuals to real estate professionals and local authorities, the smart building benefits everyone.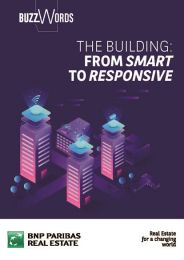 Buzzwords // The building: from smart to responsive
Once green, connected or user-centric, the building now adds being responsive as it adapts to the needs of its occupants. What are the benefits of this new model? And what is behind this change?
Download this Buzzwords